55 Mercer Condos Project Details
THE BUILDING OF A SHOWSTOPPER.
Inspired by the neighbourhood's turn of the century-era buildings, 55 Mercer's bold design makes quite the statement. The building's timeless material palette of red and grey brick, natural stone, glass, and black metal frames complement the many historical façades that surround it. An essay in geometry and proportion, its distinct architecture features a captivating interplay between the rust coloured mass and the white pixelated grid that cover its frontage. The rich rust colour adds drama, unifies the commanding podium with the soaring tower, and makes a striking impression in a vibrant neighbourhood.
Set on a commanding podium, 55 Mercer rises to a soaring height of 47-storeys. Its grand presence adds a new wave of energy to a neighbourhood that pulses with life.
The most premium site imaginable, an unbeatable location together with high-end luxury makes 55 Mercer Condos the gem of one of Toronto's busiest intersections, just moments from office districts, shopping, nightclubs and entertainment.
Amenities:

24-Hr Concierge
The Mercer Club: 18,000 Sq. Ft. of Indoor/Outdoor Amenities – Over Three Floors
24-Hr Indoor Fitness Centre / Peloton Bikes
Outdoor Fitness Space and Basketball Court
Outdoor BBQs and Fire Pits
Shared Co-Working Space
Entertainment Room
Prime Ground Floor AAA Retail
Pfaff EV Car Share: Porsche. Mercedes, Audi, BMW
Pfaff On-Demand Valet Service
Fendi Furnished Lobby

Suite Finishes:

9' Smooth Ceilings
Integrated Stainless-Steel Appliances
Laminate Flooring
Quartz Countertops
Stacked Washer/Dryer
LUXURIOUS AMENITIES. ELEVATED LIVING.
The amenities at 55 Mercer are nothing short of excellent. The grand lobby is where it all begins. Dressed in natural wood and stone, accented with FENDI furniture, the lobby is a study in refinement. With linear elements that dramatize its double-height, bronze inlay mirrors that reflect light and wooden slats that create a soothing sense of movement, this plush 24-hour attended space sets the tone. The Mercer Club with its state-of-the-art fitness, co-working and entertainment spaces, offers a lifestyle that's richly satisfying. Spread over three floors, its interiors feature timeless finishes and furnishings with custom details that enhance every encounter. The fitness area comes outfitted with Peloton pods, separate high-intensity cardio, cross-training zones, and a yoga studio. Everything high achievers want. In keeping with the changing times, the co-working area with its breakout rooms, boardroom, and social spaces cater to how business is done today. A dog run, half size basketball court, outdoor gym, landscaped terraces designed for entertaining, 55 Mercer is where the exceptional is the norm.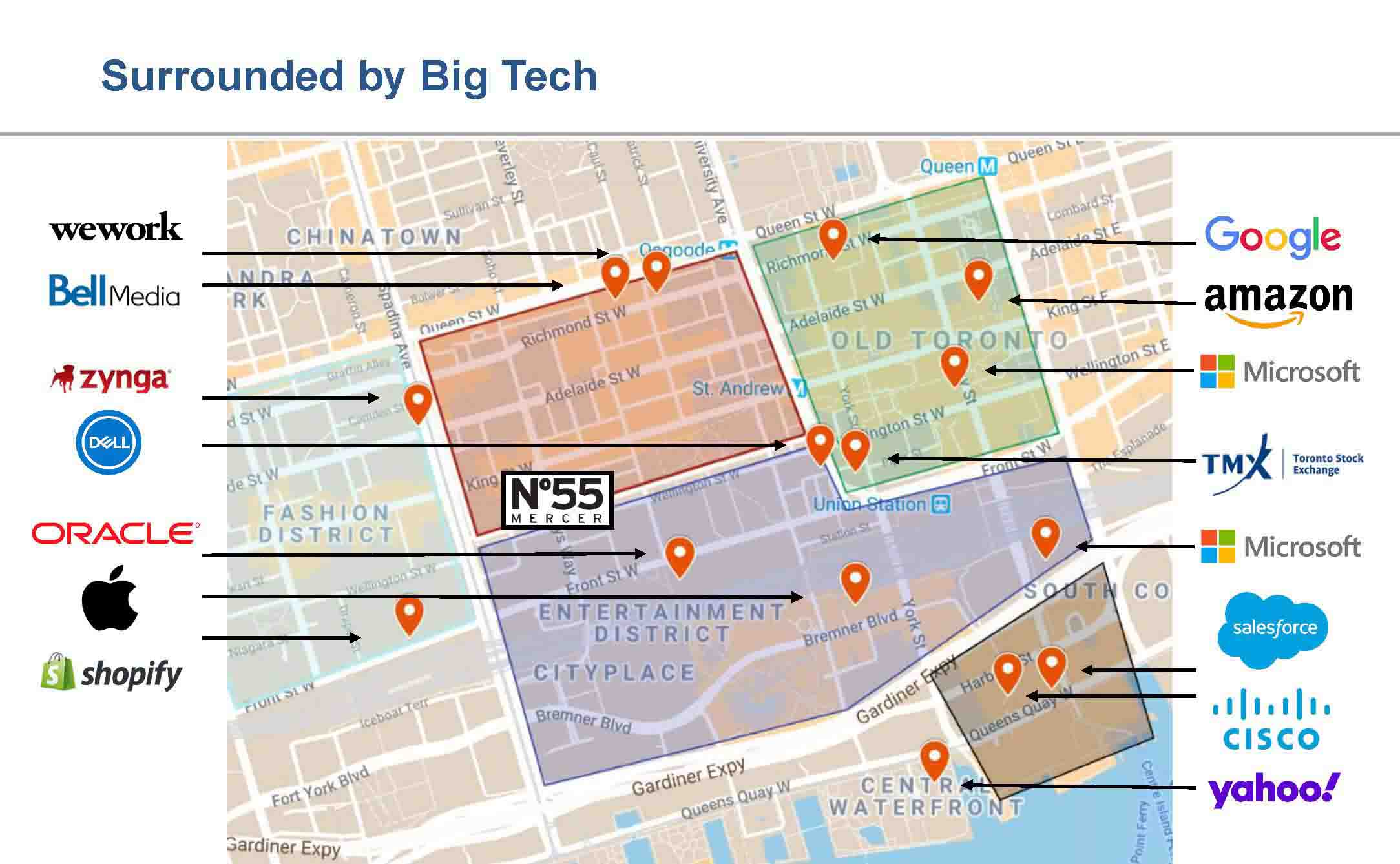 Investment Exclusivity in the Entertainment District
A home in today's Toronto's Entertainment district is a very exclusive, upscale purchase that comes with very high reward. Convenience is evident at every turn as pedestrians encounter retail shops, eateries, and businesses on the ground floors. Perfect walking and transit scores connects residents to 24-hr streetcar and Line 1 subway service in under 10 minutes, and is walking distance to 4 other world-renowned institutions of higher learning (Ryerson University, University of Toronto St. George, OCAD University McCaul Campus and George Brown College St. James Campus).
The rich balance of dining, entertainment, culture and art hubs along King West attracts countless businesses, students and faculty seeking rentals, visitors to the campus and recognition as the centre of Toronto's art scene.
Living in the Entertainment District has been sought by a wide range of Toronto residents, from students and young professionals, to Financial District executives, to growing families. King Street continues to mature, attracting many older buyers as well. Booming immigration rates, soaring job opportunities and wealth redistribution from boomers to millennials places King Street condos on a pedestal of luxury and premium location in Toronto - don't miss this rare opportunity.